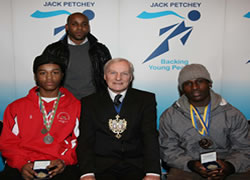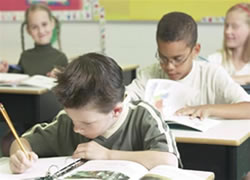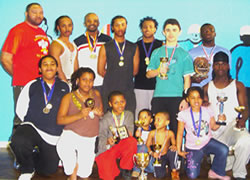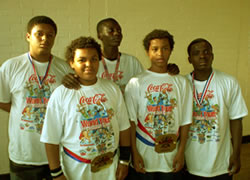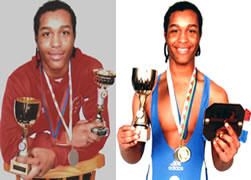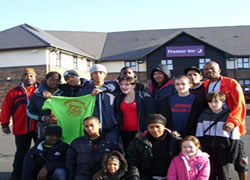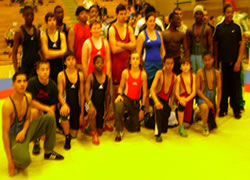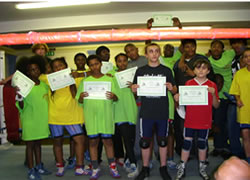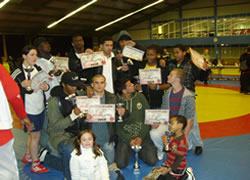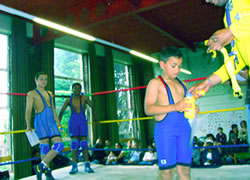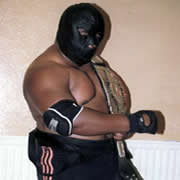 Child Protection
First Aid Procedure
Health and Safety
Equal Opportunity
Policies
Child Protection Policy & Procedure
The Lewisham wrestling club and youth association believes that taking part in our sport should be a positive and enjoyable part of any child's life. We will make sure that all children are protected and kept safe from physical, sexual and emotional harm while they are with the Club's coaches, helpers and other volunteers.
In order to ensure this is the case the following aims are to be striven for at all times. As part of the vetting procedure for any helper or coach each individual must state that he/she will do everything in their power to uphold these aims:
Any adult who wishes to Coach or assist in the administration of the LWC and YA will have been interviewed, undertaken a CRB approved check and asked to sign the approved form 'Adults wishing to supervise Children and young people team'
All coaches must have relevant initial beginner coaching course before they begin working with children.
We provide professional First Aid service during all activities as a limited care for an illness or injury, which we provide to any sick or injured members until definitive medical treatment can be accessed, or until the illness or injury is fully dealt with.
Immediate action is take in the cause of an accident, without any cause of panic.
Our first priority is to yourself and members - we ensure that all members are protected and a risk accessment is evaluated.
Where necessary medical professionals are called.
Our organisation treats health and safety in the workplace very securiously, whether it's learning to use a piece of machinery or visiting our organisation we ensure safety by having a properly stocked first-aid kit available and operation manuals for appliances.

We regularly consult with our volunteers and members, on the procedures that will safeguard their well-being by producing safety handbooks, literatures and displaying appropriate notices. This guide explains the legal requirements of notifying everyone within your workplace about health and safety and gives practical advice on steps to take.
Our Equal Opportunity policy outlines the guidelines and procedures for all committee members, volunteers and members in dealing with enquires and complaints of discrimination and harassment by all sex, gender, race and age.

Discrimination and harassment are unacceptable behaviour and are serious issues which undermine morale and can adversely affect the ability of committee members, volunteers and member to achieve their full potential within the organisation.

Policy and procedures for resolving complaints of discrimination and harassment have been adopted by our organisation by:

promoting a decent work and tolerance environment which is free from discrimination and harassment;
provide an internal procedure for dealing with issues and complaints of discrimination and harassment which may arise;
meet the requirements of State and Federal legislation, and the organisation's current Equity and Diversity Management Plan.
Venue for Wrestling Training
Days: Sunday (Outdoor Fitness)
Place: Greenwhich Park SE3 0TH
Forester Memorial Park SE6 1UA
Time: 11 AM to 3PM
Age Group: 10years upwards
Days: Every Wednesday
Place: LEWISHAM UNITED REFORMED CHURCH
Time: 18 Courthill Road, Lewisham SE13 6HB
Times: 5:30 pm 8:00 pm
Age Group: Any age from 10years
Latest News & Events
Event
: 2014 British Junior Championships and Aspull International Championships 2014. 6 junior wrestlers From Lewisham wrestling club will take part and try to bring Gold Medals for Club.
We're recruiting a new Group of Children's and Young people to take part in a twice per Week (Olympic Wrestling and physical activities) for Free of Charge, from 2014 to June 2015. Funded by BBC Children's in need.
Join Lewisham Wrestling Club
Advertisements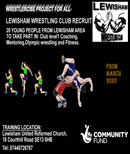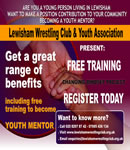 Our record and Achievements

Christ 16 and Israel Tshikeva 18 years old Transitions from one Level to the next, Israel he started Olympic wrestling when he was 5 years old. Moving to a New place at 17 with out your Parents is never easy.

Israel Tshikeva left everything and everyone behind in London to move to Manchester GB Team in order to fulfil his dreams of being one of the top Olympic wrestlers at 100kg.