Our Profile
About us
The lewisham wrestling club and youth association (LWC and YA) began its work in June 2003 as a response to the difficulties faced by the ethnic minorities community in the United Kingdom. The organisation has been and still managed by members of the ethnic minorities and became a registered charity in April 2004. It is governed by a constitution that is currently fit for purpose but may require amendment as the organisation grows.
Our services are up to now provided 9 volunteers, including some members of the management committee. Membership is open to anyone over the age of 18 who supports the organisation's aims and objectives. All members have one vote and may stand for election to the executive committee at the annual general meeting. The executive committee is the governing body and comprises 5 members (including honorary officers).

Since June 2003, the organisation is administratively base at 4a, Boone's road, London se13 5sj, temporary addresse. the sport activities take place every week at Ladywell leisure centre 261 lewisham High St. and Wood Green youth Centre Every Sunday
Our Team
Is a voluntary organisation aiming to promote sport and fitness activities. We do understand issues facing young people and children in general and our work reflect to youth development and progression. The organisation is merged with Youth Association to run various activities, training and workshops to help young people develop their full potential and ability.
Our major focus involves using various multifunctional programs to help Our mostly disadvantaged, South East London and North Boys, girls and young adults, from the age of 8 years and upwards. Our strategy is to use sport activities as a key tool to reach youngsters who are from the hard to reach community group. Right now, we are engaging to work directly within the community to promote the London Olympic 2012 and get start of tomorrow from the most deprived areas of London's
venue for wrestling training
Days: Sunday (Outdoor Fitness)
Place: Greenwhich Park SE3 0TH
Forester Memorial Park SE6 1UA
Time: 11 AM to 3PM
Age Group: Any age
Days: Every Wednesday
Place: LEWISHAM UNITED REFORMED CHURCH
18 Courthill Road, Lewisham SE13 6HB
Time: 5:30pm - 8:00 pm
Age Group: 10 Years upward
Latest News & Events
Event
: 2014 British Junior Championships and Aspull International Championships 2014. 6 junior wrestlers From Lewisham wrestling club will take part and try to bring Gold Medals for Club.
We're recruiting a new Group of Children's and Young people to take part in a twice per Week (Olympic Wrestling and physical activities) for Free of Charge, from 2014 to June 2015. Funded by BBC Children's in need.
Join Lewisham Wrestling Club
Advertisements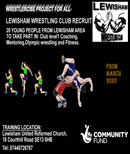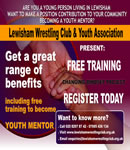 Our record and Achievements

Christ 16 and Israel Tshikeva 18 years old Transitions from one Level to the next, Israel he started Olympic wrestling when he was 5 years old. Moving to a New place at 17 with out your Parents is never easy.

Israel Tshikeva left everything and everyone behind in London to move to Manchester GB Team in order to fulfil his dreams of being one of the top Olympic wrestlers at 100kg.