Venue for Wrestling Training
Days: Every Monday
Place: BELLINGHAM GATEWAY YOUTH CLUB
185, Brookehowse Rd, SE6 3TT, Lewisham
Near Train Station: Bellingham Station
Times:4:00 pm - 6:00 pm
Age Group: 10 years upwards
Every Wednesday
Place: LEWISHAM UNITED REFORMED CHURCH
18 Courthill Road, Lewisham SE13 6HB
Times: 5:30 pm 8:00 pm, any age
Latest News & Events
Event: 2014 British Junior Championships and Aspull International Championships 2014.
6 Junior wrestlers From Lewisham wrestling club will take part and try to bring Gold Medals for Club.

We're recruiting a new Group of Children's and Young people to take part in a twice per Week (Olympic Wrestling and physical activities) for Free of Charge, from 2014 to June 2015. Funded by BBC Children's in need.
Join Lewisham Wrestling Club
Advertisements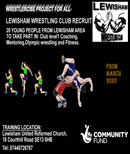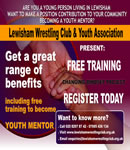 Our record and Achievements

Chloe Spiteri started Olympic wrestling training at Lewisham wrestling club in south east London and She was Coaches by Level 2 Olympic wrestling coach Mr Muladi badibengi from Lewisham and Makasi Tshikeva, the Coach has found that Chloe spiteri was talented and decided to train hard and get to 2012 and win gold medal..After hard work at the club, the training pay off, Chloe spiteri has join GB team and she was the only Londoner at the Olympic test event at the Excel Centre.